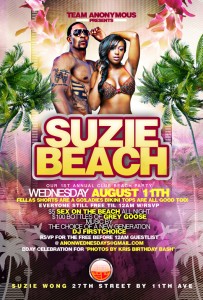 Tri-State, Anonymous Wednesdays @ Suzie Wong is still NYC's #1 Wednesday Night Party. We have been providing party goers from all over the Tri-state with an elite party experience. We provide new themes each and every Wednesday and most of all a"FUN" party.
"Where The Unpredictable happens"
Since the Summer is here, and we have been the number #1 Wednesday for the past 4 months, we have decided to show appreciation and make the next few Wednesdays FREE for All til Midnight!!!!  We hope to see you @ Suzie Wong this Wednesday!
Fellas: Shorts are a GO! Ladies: Bikini Tops are all good too!
$5 Sex on the Beach ALL NIGHT!
ANONYMOUS WEDNESDAYS @ Suzie Wong
WEDNESDAY JULY 21st
EVERYONE STILL FREE TIL MIDNIGHT w/MANDATORY RSVP
$100 BOTTLES OF GREY GOOSE
MUSIC BY DJ FIRSTCHOICE & BIG KAP THE WARDIN
Dress Code: STYLISH & FASHIONABLE
ENTRY AT DOORMAN'S DISCRETION
FREE BEFORE 12am ON GUESTLIST! RSVP BELOW!