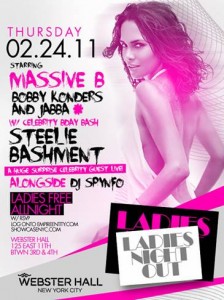 This Thursday February 24th 2011
Last Thursday was crazy as Juelz Santana celebrated his B-Day at Ladies Night Out.
Over 2000 people came out to see him perform LIVE. It was Crazzzy!
This Thursday we Welcome Hot 97s
MASSIVE B's Bobby Konders & Jabba
And A HUGE SURPRISE CELEBRITY GUEST !!
+
B-Day Bash for Bklyns Own DJ STEELIE BASHMENT
alongside Ladies Nights own Pitbull DJ SPYNFO
And how could we forget…
LADIES ARE FREE ALL NIGHT!
The Last few Thursdays Lloyd Banks, Bobby V, Pleasure P, Chris Brown,
Keri Hilson, Soulja Boy, Serani, Brandy &Terrence J have Been LIVE
This Thursday just gets BIGGER…
LADIES NIGHT THURSDAYS
@ WEBSTER HALL
(125 East 11th St btwn 3rd & 4th )
Come Party with Thousands of People
in 5 Rooms of 100% Unadulterated FUN!
Bomb Parties GUEST LIST
Our Sexy LADIES FREE ALL NIGHT on List *
Gents Reduced All Night ONLY on List
NO WAIT ON LINE FOR ALL
Bomb Parties  Guest-list
RSVP for No Cover w/ Name & Phone
Bomb Parties Guest-list
info@bombparties.com
646 -345-4155
Each & Every Thursday Night is filled w/ Beautiful women.
Why wouldn't it be? It's Girls Night Out!
Hip Hop | Reggae | Pop | Top40 | Latin by
Hot 97s MASSIVE B's
Bobby Konders & Jabba
+
STEELIE BASHMENT
alongside
|The Pitbulls DJ SPYNFO
Girls Night Bottle Specials
2 for 500 – Grey Goose & Hennesey
2 for 300 – Moet Imperial
RSVP for No Cover / Reduced Entry All night
w/ Name & Phone
info@bombparties.com
646 -345-4155
Doors Open 10pm. Dress-code is Sexy & Chic.
Collared Shirts Mandatory for Gents. No Work-boots allowed.
Heels Highly Preferred for Ladies
READY TO MAKE MONEY
WITH 2 of NIGHTLIFE's BIGGEST COMPANIES?
Empire Entity & Showcase Ent
are looking for popular up and coming
NYC socialites, College students, fraternities & sororities
to promote the biggest College party in NYC.
Get paid to party with NYC's top promoters,
DJs and well known celebrities every week at
LADIES NIGHT OUT @ WEBSTER HALL
Where Else Can You Make Money to Party w/ Celebrities?!
STUDENTS & YOUNG UPCOMING PROMOTERS!
Call or Text  646 -345-4155 TODAY
to see How you can make BIG $$
by Simply Inviting Your Friends to Party
Email Your
Full Name, Age, School, Phone Number & Photo to:
info@bombparties.com
For Info| Pics | VIP Access
Log onto
bombparties.com