Thursday October 6, 2011

Presents

A-List
GROWN & SEXY

CELEBRITY AFTERWORK THURSDAYS
&
LATE NITE

THE BEAT FACTORY

@ THE Brooklyn Terrace

222 Duffield ST.

The Party Continues

in Brooklyn's Newest Most Trendy Rooftop EVER
in the Heart Of Downtown Bklyn
This Week A-list After Work & Beat Factory

Proudly Brings You
Music by Dj D-Nice
DJ KAOS
& Guest DJs
Q-TIP | QUEST LOVE | TALIB KWELI | KAOS
AND many more!!!!
Everyone Free All Nite No Gimmicks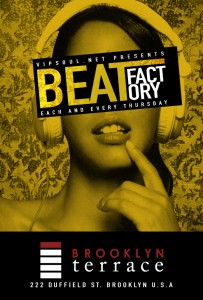 ==============================================================

The Party Continues as we cordially Invite you

To the Return of New York's Renaissance Era of Nite Life

When Entertainment Music And Fashion Were Golden…


Last Week over 1000 Beautiful People Came Out
and Made History In

Brooklyn's Newest Most Trendy Roof Top Hot Spot

Don't just go home after work… socialize the night away with other urban professional trendsetters

on the luxurious 10 million dollar Roof Deck with an average age range of 25 & over.

Our Nuts & Bolts Mixer is a great way to meet A LOT of New York's professional singles.

Upon entering Brooklyn Terrace, the men will receive a bolt and the women will receive a nut.

Mingle with each other trying to find a fit.

Once you've found your match, return your original nut and bolt at the host table and receive a new nut or bolt and a raffle ticket for some cash prizes!

Then, get back out there and find a new match in order to get additional raffle tickets and to meet more potential love matches.
Celebrating a Birthday?
RSVP you or your friend's Surprise Birthday Party and receive a
Complimentary Cake & House Champagne On Us!

Not a Surprise? Please Feel Free to give us the information and a Customized Online Flyer Will Be Made for your Celebration Free of Charge!
The Nuts & Bolts event ends around 10pm but feel free to stay with us
enjoy the music and great drinks/food menu with your new friends for as long as you please.
Nuts & Bolts Mixer Begins At 6PM Sharp

BEAT
FACTORY

Thursday Sept 29, 2011

In Brooklyn's Newest most Trendy and Only
5,500 Sq.Ft Indoor/Outdoor Rooftop Ultra Lounge Paradise

24 Stories With an amazing View of Brooklyn and Manhattan Lights)

NO COVER EVER

Dress Code: Privileged

21 & Over

ID is a MUST

D-Nice & Kaos had the Place Rocking ALL NIGHT!!!
This Week We Are Proud To Present


The Legendary
Dj D-NICE
Alongside
Dj Kaos
& Celebrity Guest DJs
Talib Kweli, Quest Love, & Q-Tip
Hosted By
MC FRANK JUGGA
TRI-STATE's BIGGEST HIP HOP CELEBRATION INVADES BROOKLYN
Hip hop music : is an American
musical genre that developed as part of hip hop culture, which is defined by four key styli stic elements: MCing/rapping, DJing/scratching, breaking/dancing and graffiti writing. Other elements include sampling (or synthesis), and beatboxing. The term rap music is often used synonymously with the term hip hop music, but rap vocals are not required for music to be considered "hip hop".

CLASSIC HIP HOP -VS- NEW SCHOOL HIP HOP

COME PARTY 6PM TO 4AM

In The Heart of Down-Town Brooklyn

To RSVP
click here
or Call

Email

Or logon to