Wednesday October 5, 2011

& every Wednesday

Roperdope Ent, Loopstar, Motion Boyz,

Black Diamonds Night Life,

Souled out Ent & Japan Ent

Cordially Invite You To…

The Harlem Beach Club Wednesdays

@ The Enchanting & Extravagant

Hudson River Café

697 w. 133 st

Between Bway & 12 ave.

The Hudson River Café boasts a Luxurious Bi-Level Outdoor Patio

Enclosed by gated garden walls

& a courtyard bar

It is a uniquely Fresh location that adds Flavor to the Harlem/Manhattanville area

This Chic Lavish location provides a tranquil, airy feel of the tropics … An oasis of opulence in the Hectic City

Its Lush, Stylish Interior, appeals to all your senses inviting you in to chill, to dance, to party and play all night

Their Mouthwatering signature Tropical drinks, Great Music and Relaxed atmosphere will sweep you away, Come Out to the Hudson River Café and Get Lost in the Luxury with us
Hip-Hop, Rhythm and Blues, Reggae,& Classics

Provided for your enjoyment By

Top NYC DJ's

Dj First Choice

& Jon Quick

& Hosted By Cherry Martinez

Doors Open 9 pm

No Cover B4 11:00pm For All Guests W/RSVP.

Ladies Free Till 1am W/RSVP

21 Plus & ID is a Must

Food Available Till 12am

Drink Specials Till 1AM

2 for $300 750 liter Bottles & Moet Rose(All Inclusive)

2 for 1 Coco Loso's

2 for 1 Patron shots $18

Dress code strictly enforced

Ladies: Dresses preferred

Heels a Must!

Gents: No Fitted Hats! No Hoodies! No Tims!

Collar or Polo shirts preferred

(entry is at the discretion of the door)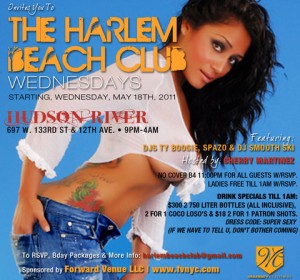 Get There Early to Avoid Long Lines

To RSVP

Birthday Packages, Table Service

Graduation, Celebration

Bachelor/Bachelorette Parties & More
Click Here to RSVP
Email
or Call
646-345-4155 or 917-740-BOMB

Sponsored by

Forward Venue LLC

& M.A.R.B.E.Y clothing co.

For Party Pics and Info

Don't forget to Logon to

or call

646-345-4155 || 917-740-BOMB